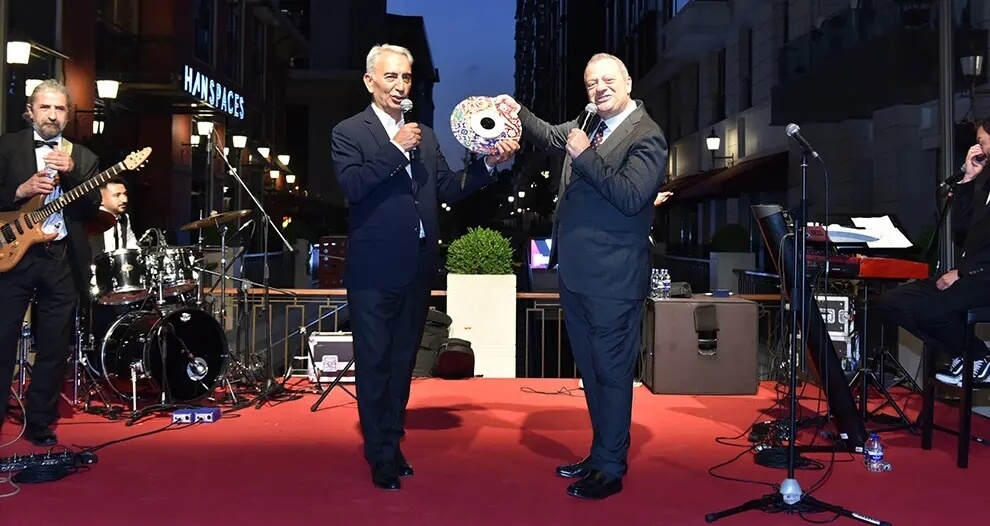 Blending the traditional business hall culture with design and technology, HAN Spaces opened its new building in Piyalepaşa Istanbul with an invitation hosted by Polat Holding Chairman Adnan Polat and Alkaş & HAN Spaces Chairman Avi Alkaş. Guests from different sectors came together at the event, which took place inside the Polat Piyalepaşa Çarşı and where DJ Murat Tokuz performed.
The new brand of Piyalepaşa İstanbul, implemented with the assurance of Polat Holding in the bustling district of Beyoğlu, the focal point of Istanbul, is Han Spaces, the iconic name of the shared office culture. The opening of the new environmentally friendly and people-oriented HAN Spaces building, located in Polat Office Piyalepaşa B Block, was celebrated with a reception hosted by Adnan Polat, the Chairman of Piyalepaşa İstanbul, and Avi Alkaş, the Chairman of Alkaş & HAN Spaces. The opening, where guests from different sectors gathered, took place in Polat Piyalepaşa Çarşı. The guests, enjoying the outdoor experience, were treated to a music feast with a performance by DJ Murat Tokuz, while welcoming the summer season.
The new building of HAN Spaces, inspired by the traditional han (caravanserai) architecture of Anatolia and its unifying power that enhances productivity and solidarity, spans an area of 2,750 square meters and consists of 5 floors. Designed with a sustainable approach and an innovative concept, the project seamlessly integrates office, coworking, meeting, event areas, and terrace spaces, providing the desired working experience after the pandemic. The space offers office areas of various sizes and styles, catering to individual workers or company employees, while adhering to occupational health and safety principles and equipped with state-of-the-art technology. The building, which is intertwined with art and greenery, has been meticulously designed to ensure the enjoyment, health, and comfort of its occupants. It offers an all-inclusive system with a comprehensive service-oriented approach. In addition to the Istanbul locations of HAN Spaces, residents of Piyalepaşa HAN can also benefit from exclusive events and ecosystem privileges at HAN Spaces' locations in Izmir, Cesme, and Budapest. HAN Spaces, located just one elevator ride away from gourmet spots, bookstores, art galleries, and children's experience areas, is now situated in Polat Office Piyalepaşa B Block.
About HAN Spaces: HAN Spaces was established as a business platform and Proptech company that brings together the centuries-old tradition of commercial han culture with technology, designing and managing workspaces that respect both people and nature, in partnership with Alkaş Gayrimenkul and Nurus. HAN Spaces offers a range of services including private offices -coworking- meeting rooms, and event areas.
About Piyalepaşa İstanbul:Realized with the assurance of Polat, Piyalepaşa Istanbul is the new route of the city with its unique climate. Polat Piyalepaşa Çarşı Square with a capacity of 989 residences and 120 brands, a special children's experience area with its distinguished concept, and Art Square, where Turkey's 5 leading private art galleries Merkur, .artSümer, Zilberman, Pi Artworks and Art On Istanbul are located, is the new stop for explorers. . Inside, there are gourmet places such as Penguin Bookstore, the only Penguin Bookstore on the European side of Istanbul, and Happy Moon's. Creating a new destination in Beyoğlu with its stylish appearance, Piyalepaşa Istanbul offers premium solutions for all needs such as residence, office, shopping, food and beverage and art in this mixed concept.
Published Date:
02 April 2023