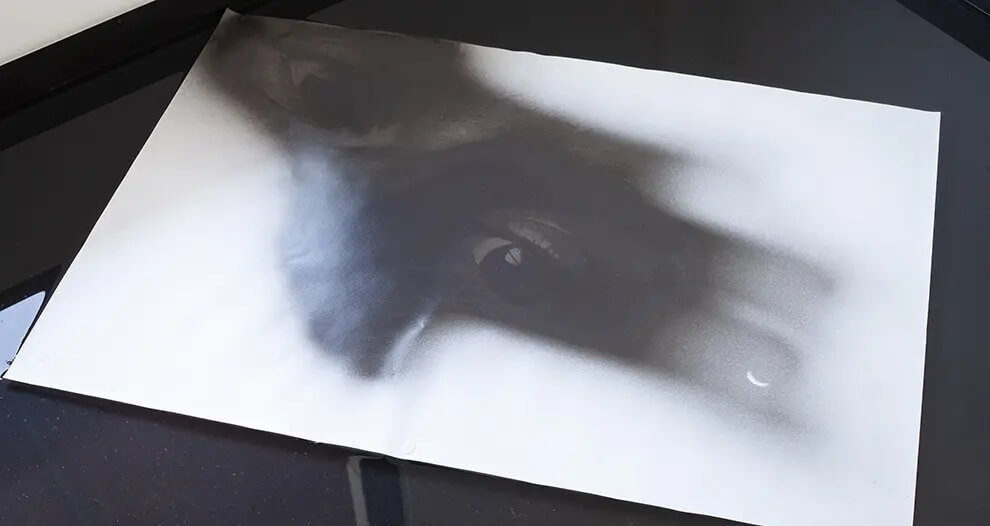 Polat Piyalepaşa Çarşı welcomes the month of May with a diverse range of exhibitions, hosting prominent art platforms in Turkey and bringing contemporary artworks together with art enthusiasts. Merkür Zeynep Çilek Çimen and Mustafa Aykurt, DG Art Project Bubi, Serdar Acar, and Martch Art Project with their eight different artists will be present, transforming the rhythm of art.
2 NEW EXHIBITIONS AT MERKUR
Zeynep Çilek Çimen's 8th solo exhibition, titled "BAHAR" (Spring), and Mustafa Aykurt's first exhibition in Istanbul, "Gücün İmitasyonu" (Imitation of Power), will open on Saturday, May 6, 2023, at MERKUR.
Zeynep Çilek Çimen re-questions the flower representations in the history of western art by using her traditional arts education and the practice of muralism. Floral motifs intertwined with Opart touches bring each viewer face to face with meaning dimensions stuck in the background of their mind. The displays, which take their color from spring flowers, remind the phenomenon of emptiness in miniature art. Lensing the art practice of Kara Memi, who is called the contemporary of his period, the artist reinterprets the naturalistic style of her stylized spring branches with her own approach. Stylized flower motifs, which create a sense of depth in an order that progresses from transparent to opaque, come into existence by repeating and becoming disidentified. Zeynep Çilek Çimen describes her art practice with these words: "Old and obsolete are not the same thing. Some things never get old. Motifs are one of them. It is prepared with dreams, expectations, hopes; reflects the aesthetic understanding of the era, its taste, and even its outlook on life; there is a meaning and beauty in it that goes beyond the purpose for which it was prepared. On the other hand, you know that life is a balance of things that are permanent and things that are temporary, just as Baudelaire said. And it is not possible to talk about cultural purity, especially in modern times. Also, for traditions to survive, some individuals living in a society must be willing to perpetuate them. In the midst of a constant change, motives also change."
Mustafa Aykurt said, "The most important ability in human evolutionary development was the ability to imitate. This was a phenomenon that manifested itself in all cultures from toys to games, from clothes to accessories, from war tools to flags, from epics to mythology and even to art. The tendency to imitate, that is, to try to understand nature through its language, It's like a reflection of the instinct of survival. As I developed this ability, curiosity first turned into exploration and then discovery. Being aware of the power in nature, people sought ways to use it; when they witnessed the continuity of nature as it transforms, they discovered that this cycle was also within themselves. The form of power that has been changing in human hands for thousands of years and the evaluation of these changes through society is still an ongoing questioning." The artist experiences the imitation of power through the animal forms he deals with in his works.
Exhibition dates: May 06 - June 03, 2023 10:00 - 19:00 (Tuesday-Saturday)
"RELIEF CAGES AND SCULPTURES EXHIBITION" by BUBI at DG Art Project
BUBI, one of the important names of Turkish contemporary art, is meeting with art lovers at DG Art Project between April 27 and June 27 with the "RELIEF CAGES and SCULPTURES EXHIBITION" curated by Zeynep ÖZTÜRK. Having held many solo exhibitions in Turkey and abroad, BUBI also includes waste products such as cardboard, cloth and rope, as well as rags, in addition to ordinary materials in its exhibition at DG Art Project, curated by Zeynep ÖZTÜRK. In addition to the primitive, wild weaves in his works, sometimes properly constructed cages can be seen as an indicator of more than one mood of the artist. BUBI, who says that I do not start by thinking and planning,"I suddenly concentrate during production. The work takes itself from then on. Usually things get muddy if I'm awake." He is an artist who is the other in his productions as well as in his social life, in the world he has surrounded with cages in an effort to stay illiterate away from the usual aesthetic concerns and domestication. The exhibition, which opened at DG Art Project on April 27, can be visited until June 27, 2023.
Martch Art Project'ten "it doesn't matter until it does"
Martch Art Project, Begüm Güney küratörlüğünde; Ateş Alpar, Berk Kır, Irmak Dönmez, Mustafa Boğa, Merve Morkoç, Meltem Sarıkaya, Sinem Dişli ve Şafak Şule Kemancı'nın katılımlarıyla gerçekleşecek "it doesn't matter until it does" başlığını taşıyan grup sergiye Polat Piyalepaşa lokasyonunda ev sahipliği yapıyor.
"it doesn't matter until it does" from Martch Art Project'ten
The group exhibition titled "it doesn't matter until it does" can be visited until May 26 at Martch Art Project's Polat Piyalepaşa location. Alyson Cole in her articleon Vulnerability "We All Can Hurt, But Some More Than Others: The Political Ambiguity of Vulnerability Studies, A Hesitant Criticism"*, while examining the political ambiguity and shortcomings of vulnerability studies, she defines the "victim" as the one that must be addressed within policies seeking equality and justice. However, physics, as a branch of science that deals with the general properties of matter other than the changes in its chemical structure, states and movements that can be examined by experimentation, depending on general or temporary laws, and can be defined mathematically, declares the structure that it defines as "fragile" over its durability. Considering these two incomparables side by side on "fragileness", which can be defined as vulnerable to injury, is not about talking about a misconception, but about thinking together and even living together on the permeability of the bonds that I have tried to establish based on the reference points of this established phenomenon.
The communion of cultural and bodily condition are fundamentally individual choices, like me—the normal and the other as a dissimilar—abnormal, reductive classifications. Every relationship that man establishes with the world brings about social transformations. Demographic changes in living and existence differences bring along the fluidity associated with them and develops a multi-identity statistics. What this exhibition wants to open to dialogue is the inherent fragility of the body, most vulnerablely, through objectification within its evil history. It proposes a multi-identity harmony with its diverse selection of body and incarnation experiences. This proposal cannot be limited and classified on the basis of gender, morals, tradition and cultural mechanisms. This limiting continuum is fragile, just like the human body. It's tough. However, the body, which cannot be dominated, is the most direct area of perception of reality. The harmony that cares about and accepts each other without othering it arises from the awareness of difference. It is unimportant until it is found important- its importance is realized.
Cole Alyson, "We All Can Hurt, But Some More Than Others: The Political Ambiguity of Vulnerability Studies, A Hesitant Criticism, In Cogito Vulnerability, İstanbul: Yapı Kredi Publishings, Issue 87 (2017)
Serdar Acar
A Midsummer Night's Dream
In his works, the artist focuses on the loneliness of today's people and the ways of existence made possible for us in this loneliness, and creates alternative spaces of existence for the individual. "A Midsummer Night's Dream", which Serdar Acar borrowed from William Shakespeare's famous theater play and carried to the title of his exhibition, proceeds through the concepts that are the basic themes in the author's text. More precisely, in "A Midsummer Night's Dream", which was carried to the title and became a popular language, Serdar Acar wanders around the borders of loneliness, love -imperfect and unrequited-, destiny, loss, the nature of love, dreams -beyond dreams and reality-, childhood, the irrationality of life and craziness...
Exhibition Date: April 15 - May 20, 2023
Address: Polat Piyalepaşa. İstiklal Mah. Piyalepaşa Bulvarı
Published Date:
04 May 2023