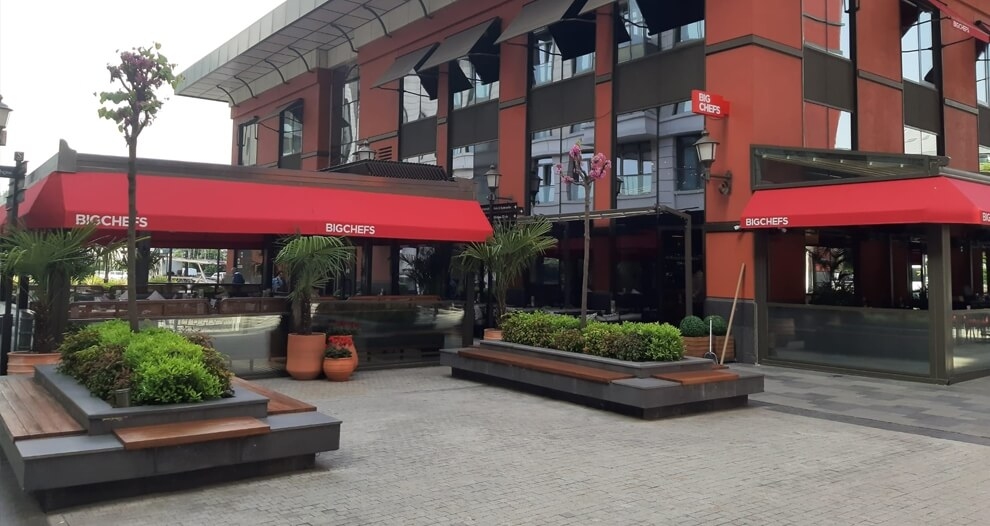 Polat Piyalepaşa Çarşı, Istanbul's modern and stylish meeting point, continues to be the address of global brands. With its brands that surpass boundaries of taste, Polat Piyalepaşa stands out as a gourmet destination in the city. The newest addition to Polat Piyalepaşa is Turkey's leading full-service restaurant chain, BigChefs.
Polat Piyalepaşa Çarşı, which hosts valuable names in the fields of clothing, home-life, bookstore, cafe, restaurant, market and art, stands out as a favorite meeting point with gourmet brands that appeal to different tastes. The area, where calmness, simplicity and aesthetics meet with elegance in harmony, offers its guests a high-level experience in the open-air concept. The location, which respects personal spaces, opens the doors to those who are bored with the crowd of the city, to spend a peaceful and pleasant time in its calm atmosphere. Polat Piyalepaşa Çarşı, which offers unique art examples of valuable galleries to its visitors, now invites its guests to the rich world of its new resident Bigchefs.
Bigchefs with Rich Menu, Special Recipe and Signature Flavors at Polat Piyalepaşa Çarşı!
Turkey's leading full service restaurant chain brand BigChefs opened its 80th branch in Turkey at the address of Polat Piyalepaşa Çarşı, Sokak Katı A Blok, Piyalepaşa Boulevard Beyoğlu/İstanbul. Welcoming its guests with the feeling of being at home, the restaurant will serve indoors and outdoors in its new branch with a seating area of 196 people. Offering a taste spot where they can spend time with pleasure in 4 seasons with the mentality of Happy Guests, the brand is open to visitors between 09:00-00:00. Offering rich cuisines for breakfast, brunch, lunch and evening hours, BigChefs is now at Polat Piyalepaşa Çarşı with its rich menu and bar menu.
About Piyalepaşa İstanbul: Polat, being one of the leading players in the real estate sector, continues to establish itself as the new destination for art and gastronomy with Piyalepaşa İstanbul, drawing on its 65 years of experience. Polat Piyalepaşa Çarşı offers art enthusiasts a comfortable and enjoyable art experience with its mixed-concept design, central location, parking facilities, and spacious venues. Located just a few minutes away from the vibrant centers of Istanbul such as Beyoğlu İstiklal Avenue, Karaköy, Kabataş, Nişantaşı, and Beşiktaş. Polat Piyalepaşa Çarşı is conveniently close to the D-100 highway and ring road connections, Dolmabahçe and Kağıthane tunnels, Çağlayan Courthouse, and hospitals. With its high ceilings and wide shop windows, Polat Piyalepaşa Çarşı offers an open-air shopping experience. It also features dedicated play areas for children and avant-garde art galleries, creating a rich cultural atmosphere that embraces the gastronomic delights, welcoming art enthusiasts.
Polat Piyalepaşa Çarşı Media Relations: Idea PR
Media Director:Mehtap Baykan
Media Contact: [email protected]
Published Date:
18 May 2023