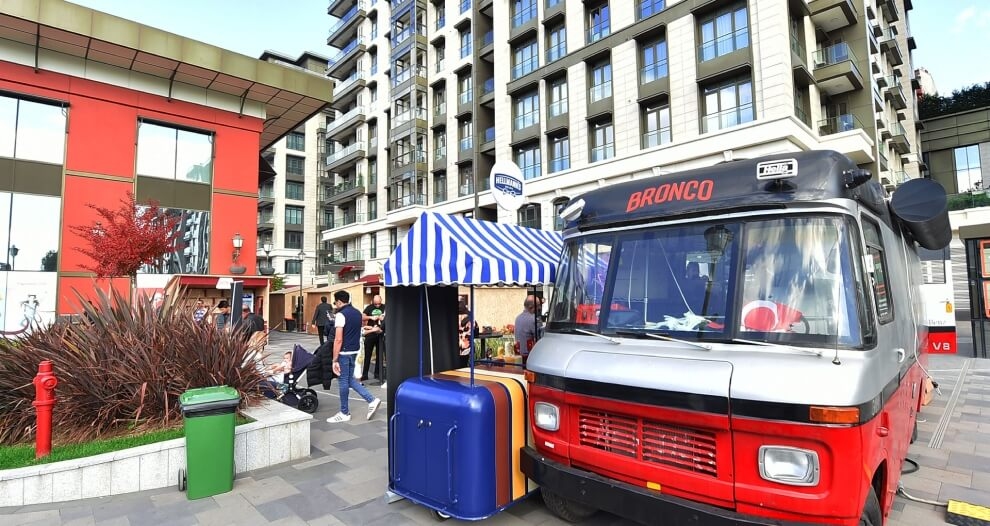 Istanbul's new art and gastronomy stop, Polat Piyalepaşa Çarşı, brings together world street flavors. The feast of taste, where unique tastes of world cuisine such as meatballs, tacos, kokoreç, falafel, burgers, stuffed mussels and churros will be experienced, will be held at Polat Piyalepaşa Çarşı on October 29-30 between 12:00-20:00!
Piyalepaşa Istanbul's shopping street, Polat Piyalepaşa Çarşı, will open its doors for street delicacies on October 29-30. At the event, where gourmet brands such as Alaf, Bronco, White Burger, Dönerci Serkan Usta and Happy Moon's will take place, leading names of the gastronomy world such as İsmet Saz, Murat Deniz Temel and Masterchef 2020 champion Serhat Doğramacı will bring their recipe glaze flavors to gourmets. A feast where delicious tastes such as hamburger, hot dog, stuffed mussels, churros, kokoreç, kumpir, chicken burger, chickhen wings, doner kebab, taco, meatballs, falafel, fish bread and ice cream will come together between 12:00-20:00 is an enjoyable plan that can be considered for the weekend.
Polat Piyalepaşa Çarşı, Gastronomy and Modern Art Stop with its Stylish Concept
PDuring the event visit to be held in Polat Piyalepaşa Çarşı, a productive time can be spent by visiting the exhibitions of Turkey's leading art platforms such as Art On, .artSümer, Martch Art Project, Merkur, Pi Artworks Istanbul, Protocinema, Zilberman on Art Street, which is included in the project.
At .artSümer, Gözde İlkin's "Emanet Zemin (Trusted Ground)" curated by Duygu Demir, at Pi Artworks "Bir Hatıradan Fazlası (More Than A Memento)" exhibition and at Martch Art Project "Bir Politikacıdan Duymak İstemediğim Herşey (Everything I Don't Want to Hear from a Politician)" and at Merkur Adnan Çoker's exhibitions titled 'Benim Siyahım (My Black)' await art audiences.
Zilberman's mixed exhibition titled "Sarmaşık(Ivy)" includes works of names such as Heba Y. Amin, Omar Barquet, Burçak Bingöl, Yane Calovski, Ramesh Daha, Memed Erdener, Didem Erk, Fatoş İrwen, Zeynep Kayan, Azade Köker, Bronwyn Lace, Marcus Neustetter, Cristiana de Marchi, Larry Muñoz, Maarit Mustonen, Egle Oddo, Erkan Özgen, Bochra Taboubi, Cengiz Tekin, Simon Wachsmuth ile Verena Miedl-Faißt/Nirual Kenabru curated by Başak Şenova.
About Piyalepaşa İstanbul: As one of the leading players in the real estate sector, Polat continues to be the new route of art and gastronomy with Piyalepaşa Istanbul, which it brought to life with more than 65 years of experience. Polat Piyalepaşa Çarşı offers art lovers a comfortable and enjoyable art experience with the advantage of its mixed concept, central location, parking lot and spacious spaces. Located a few minutes from the city's attractions such as Beyoğlu Istiklal Street, Karaköy, Kabataş, Nişantaşı and Beşiktaş, Polat Piyalepaşa Çarşı is close to D-100 highway and ring road connections, Dolmabahçe and Kağıthane tunnels, Çağlayan Courthouse and hospitals.
Polat Piyalepaşa Çarşı, which offers an open-air shopping experience with its high-ceilinged and wide-window stores, awaits art lovers in its climate where it creates a rich gastronomic culture, with playgrounds specially designed for children, leading galleries of art.
Published Date:
26 March 2023